If you are looking for the best RSS Reader and News Aggregator Apps for Android or iOS to get breaking news and stories from your favourite sources to read offline. Here we have listed the best applications for you to simplify your life in times.
We recently published a post about the best news aggregators for Windows and Mac in case you need feed readers for your Windows PC or macOS powered devices. These RSS reader apps will help you get news, blog posts, and audio files from popular podcast hosting platforms.
To download feed reader apps for Android or iOS devices like iPhone and iPad, here we have complied the best news aggregators for you available on the Google play store and Apple iTunes for free. Check them out below!
Best RSS Reader News Aggregator Apps for Android/ iOS
Here is out list of the best RSS reader and news aggregator tools for Android and iOS to help you to retrieve  the news and contents from your favourite sites that interests you.
# FeedMe
FeedMe is one of the simple and full featured offline RSS reader apps for Android and iOS to read feeds from Feedly, InoReader, Bazqux, Feedbin, FreshRSS, and many more to provide the best news reading and podcast listening experience for users.
Using this app you can add custom feeds you want to sync, and supports swipe left and right in article list page. It auto marks read while scrolling and comes with minimal, summary, list, card and vision view. It is great offline reading app.
Download FeedMe RSS reader and podcast aggregator app for Android | iOS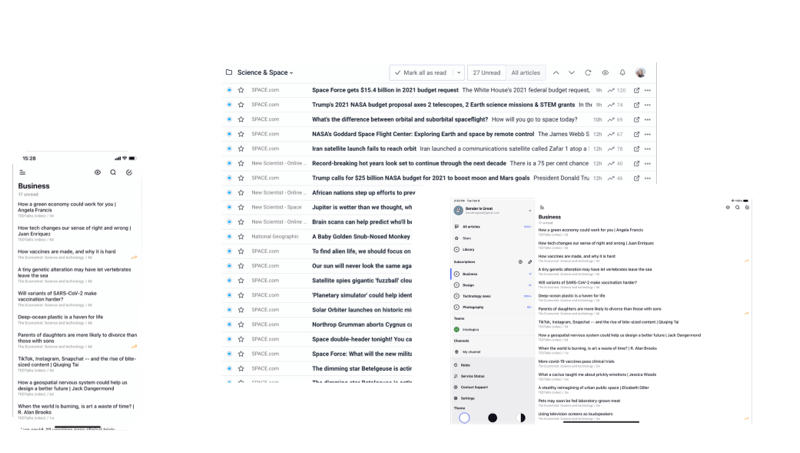 # Inoreader
Inoreader is another popular RSS reader app for Android and iOS that offers not only a beautiful and light reading experience, but also a powerful news aggregation and curation feature to let you build a perfectly personalized news feed.
It has been used by techies, business professionals, digital marketers, research institutions, content creators, news publishers, and more to get control over the new content being released into the web every single day.
Download Inoreader News App & RSS reader for Android | iOS
# RSS Reader
This is a simple RSS reader app only for Android that comes with a fast and clean, to give you the freedom you ever need to enjoy your favourite news. It can import/export feeds, caches images for offline reading, and automatic or scheduled sync.
It is a perfect app for offline reading with pictures and full text, where you can swipe left/ right to view previous/ next news articles and it also comes with a light or dark theme, plus full-screen mode for articles.
Download RSS Reader application for your Android
# Palabre Feedly RSS Reader News
Palabre is an all in one news app, and an acclaimed RSS reader for Feedly, RSS feeds, Inoreader, The Old Reader or Twitter that enables you to build your own dose of daily news by adding your favourite feeds.
It features offline reading, extract full articles from RSS feeds, with a dark theme. You can easily sync feeds from Feedly, or import RSS feeds from OPML. It gives a magazine layout, and a scroll-able news widget for Android.
Download Palabre Feedly RSS Reader News for Android
# Feedster
Feedster is another single app shows list for all news feeds from your accounts in social networks, RSS feeds from websites you like with fresh and clean design. It comes with all necessary features to add news widgets, write comments, rate posts, and read news offline.
It has one of the smoothest and fastest interfaces with many customisation features. You can also connect Instagram, YouTube, Twitter, Reddit and Feedly, including all major social networks in one place!
Download Feedster News Feeds, Multi Social Media App for Android | iOS
# Aggregator RSS News Reader
Aggregator is another app that brings filters and proper notifications to Android news readers. You can filters news by title or content to display only this is important and interests you. It notifies you about all unread or just new items since your last check.
It has feed auto discovery support for RSS and Atom feeds. It also comes with dark and light themes to read news by user defined feed categories, and more!
Download Aggregator RSS News Reader app for Android
# RSS Savvy
RSS Savvy is another app that monitors your feeds and notifies you when new articles come up that you care about, whether it's sports, technology, or entertainment news aggregated directly from the websites you love to follow and read anytime.
It is a fast, free, unlimited feeds aggregator app for Android, without disruptive ads, and sign-up. You can organize your feeds across any number of configurable tabs to group titles in a way that makes sense to you.
Download RSS Savvy application for Android
# RssDemon News & Podcast Reader
RssDemon is a powerful, clean and easy to use news and podcast reader application for Android powered devices, that enables you to subscribe to news, blogs, podcast feeds and read the feeds offline on your mobile, with or without internet.
It supports all kind of news, blog and podcast formats, and offers you advanced, cutting-edge capabilities to add and retrieve your favourite news sources and choose from the predefined feeds and podcasts to be downloaded.
Download RssDemon News & Podcast Reader for Android
# Feedly – Smarter News Reader
Feedly is one of the best RSS reader and news aggregator app for Android, iOS, as well as available Windows and macOS devices. With this app you easily organize all your publications, blogs, channels, and more in one place to consume and share efficiently.
You can use it to read blogs, learn new topics, and track keywords, brands and companies, because it gives you access to connect to more than 40 million feeds, you can find the niche content that is specific to your area of interests.
Download Feedly – Smarter News Reader app for Android | iOS
# Flipboard
Flipboard is another free application for Android and iOS to read the latest news from thousands sites, blogs, newspapers and magazines, from The New York Times, to National Geographic, Vanity Fair, and more from around the world.
It will enable you to create and customise your smart magazines to keep up with the latest headlines and trending stories in your daily roundup of important events and personalised news articles from the sources you define.
Download Flipboard news reader app for Android | iOS
# Flym News Reader
Flym News Reader is a simple, modern, and free RSS reader app for Android that keeps you informed by fetching feeds from your favourite websites and blogs and displays them in a mobile-optimised way. It does not syncs with any online feed reader.
Using this app you can easily search for new RSS or Atom feeds to download articles for offline reading including images, or import and export the feed list from OPML. It retrieves the full text of the feed to help you read offline.
Download Flym News Reader app for Android
# Feeder
Feeder is like a news manager app for Android and iOS, that tracks any online source you define and bundles it into an easy-to-digest reading experience and keeps up with everything you care about in one simple, and clean  place.
You can add content sources to get your customised news feed, it enables you to connect to almost any feed source on the web like blogs, news, weather, government databases, job boards, newsletters and more.
Download Feeder News Manager app for Android | iOS
# PaperBoy
Paperboy is one of the best news reader apps which doubles as an RSS reader, with over 25 million feeds to choose from, you'll be able to find what you are looking – follow your favourite news and magazines RSS or Atom feeds with ease.
It gives you access to offline news reader which lets you discover the latest news and articles from a wide variety of website, blogs, and channels. Easily share the articles you read or save them for later, and more!
Download PaperBoy RSS reader app for Android | iOS
# gReader
gReader is another simple, fast and intuitive RSS reader program that comes with beautiful themes, podcast and full featured offline mode support. You can easily synchronize your favourite feeds with Feedly or save your feeds locally with the internal RSS reader.
Download gReader app for Android and iOS for free!
# News Free
News Free app is one of the popular RSS reader for iOS to experience news reading faster and in full screen on your iPhone and iPad devices. Using this app you can read all your favourite news, magazines live and free from CNN, to Bloomberg, Yahoo, Google News, Reuters, FOX, and more.
Download News Free RSS feed reader app for iOS
# Newsify
Newsify is one of the popular RSS reader apps for iOS that enables you to read and share your favourite websites and blogs with an amazing newspaper-like layout on your iPhone and iPad. Subscribe all news, blogs and feeds in one free reader app!
You can easily sync with Feedly or Newsify or use without an account or sync with iCloud. It gives multiple article list layouts: split view, newspaper view, and table view. It is a great app for offline reading with image caching.
Download Newsify RSS reader app for iPhone and iPad for free!
Conclusion!
Those were the most popular RSS reader and news aggregator apps for Android and iOS powered devices that will allow you to retrieve the news and information you care about. You can choose the one from above that interests you the most to consume contents online or offline.
Also, let me know if any of the important RSS reader app is missing in the above via comment section below.