Searching for the best podcast hosting platform and podcast sharing sites? Want to podcast your episodic series of spoken words and digital audio files, that your users can download to their personal device for easy listening? Here we have listed the best podcasting services for you to use to host your episodic podcasts online!
Most of these podcast software give you tools and resources you will ever need to reach your audience wherever they listen to your podcasts so you can grow your audience with a suite of powerful tools.
Publish your podcast anywhere, these podcasting solutions make sure about distribution of your podcasts to your audience's favourite apps and platforms everywhere.
Explore more about these podcast hosting sites on this page to automate and simplify your podcast publishing workflow online!
The Best Podcast Hosting Platforms: Podcast Sharing Sites
Here we've picked the best podcasting tools, if you have been thinking about starting to podcast, you can choose the one you like from the podcast services listed below:
# Podbean
Podbean is one of the leading podcast hosting sites that gives everything you need for a successful podcast with an easy and powerful way to create, promote and monetise your podcasts. They have been offering podcast hosting solutions from podcast newbie to professional podcaster.
Their platform is built-with all the features a podcaster needs for starting a podcast, promoting a podcast, and monetizing a podcast. Here you will get your podcast up and running with a few quick steps, as they keep things simple, so you can focus on just making the best podcast ever!
Pricing: Podcast Starter Plan is free that gives 5 hours of total storage space and 100 GB monthly bandwidth, while their Unlimited Audio Podcasting plan starts at $ 9/month.
Buzzsprout Free Podcast Hosting Platform
# Buzzsprout
Buzzsprout is another free podcast hosting platform for beginners, where you can start podcasting with free podcast hosting plan to test their platform. Just like Podbean, they have been offering easiest podcasting tools for hosting, promoting, and tracking your podcasts for free with starter plan.
They have also been offering free learning materials such as free podcasting guides, podcasting courses, video tutorials, industry podcasts, and access to the their podcast community, to help you get everything you need to create a successful podcast.
Pricing: Free plan gives you access to upload 2 hrs of podcast each month hosted for 90 days, while at $12/month upload 3 hrs each month, episodes hosted indefinitely.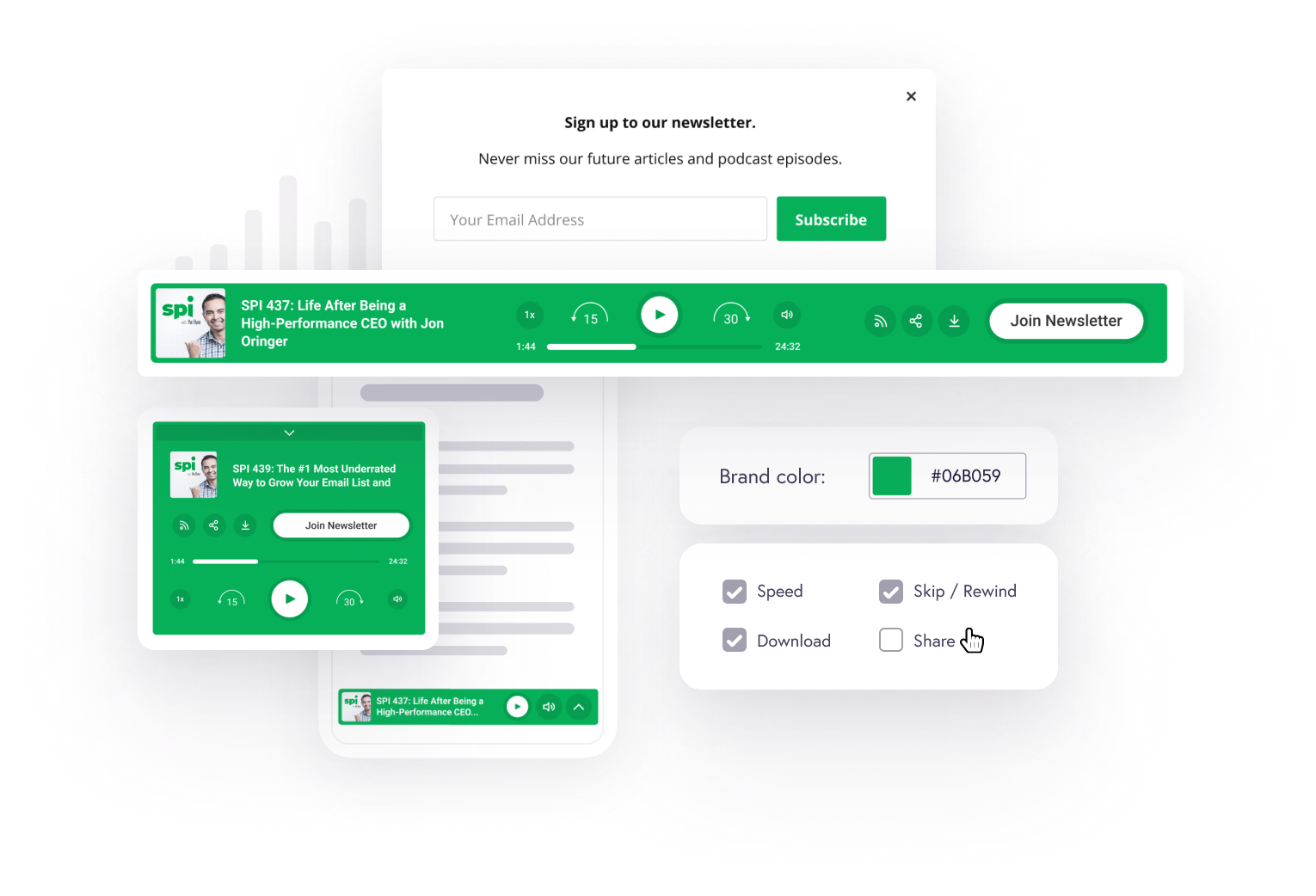 # fusebox
fusebox is another smart podcast player software that enables you turn your readers into listeners with podcast player. Instead of linking to a relevant podcast episode, it lets your visitors listen to your podcasts right on your page, as it can easily be embedded in most website building platforms and page builders
This podcast hosting platform and podcast sharing tools gives almost everything you ever need to grow your podcast online with premium features to help you create the ultimate podcasting experience on your website to instantly turn your site into a podcast player.
Pricing: Free plan gives you up to 10k monthly views and you can have up to 3 free shows, while at $16/mo up to 100k monthly views and have unlimited pro players.
# Libsyn
Libsyn is another leading platform where you can start your podcast with their simplified podcasting & powerful podcasting suite. You can choose to use their suite of powerful tools to reach and grow your audience wherever they listen to podcasts and stay connected to your audiences everywhere.
This platform also offers podcast monetization options to control your premium content subscriptions and opt-in advertising. It also offers mobile compatible player and podcast page, a mini-site customised for your unique brand with an app for Android and iOS.
Pricing: Classic plan starts at $5/month with 50 MB storage and unlimited audience, while advanced plan starts at $40/month with 800 MB storage and unlimited audience.
# Spreaker
Spreaker is another podcasting solution that enables you to make money online podcasting easily and consistently! It offers ultimate tools for podcasting, to record, mange, and distribute your podcasts to platforms like Apple Podcasts, Spotify, Google Podcasts, and more.
With their ultimate enterprise podcast platform, podcast hosting made easy, because for more than a decade, their team and product has been equipping podcast enthusiasts and publishers with all the tools they need to succeed with podcasting.
Pricing: Free speech plan gives you 5-hr storage for up to 10 episodes and unlimited listeners, while on-air talent plan starts at $7/mo with 100-hr storage for unlimited episodes and unlimited listeners
# Simplecast
Simplecast is another easiest independent podcast hosting and analytics platform for podcasters to publish their audio to the world – with just one-click publishing, and distributing to Apple Podcasts, Spotify, Google Podcast or wherever your listeners are across the world.
This platform exists for the podcaster, those who have been giving shows of all shapes or sizes and access the same tools powering shows from some of the world's biggest brands by using the industry's most robust audio streaming infrastructure.
Pricing: All plans include a 14-day free trial with unlimited storage & uploads, then basic plan can be upgraded at $15/month to access all the premium features and tools.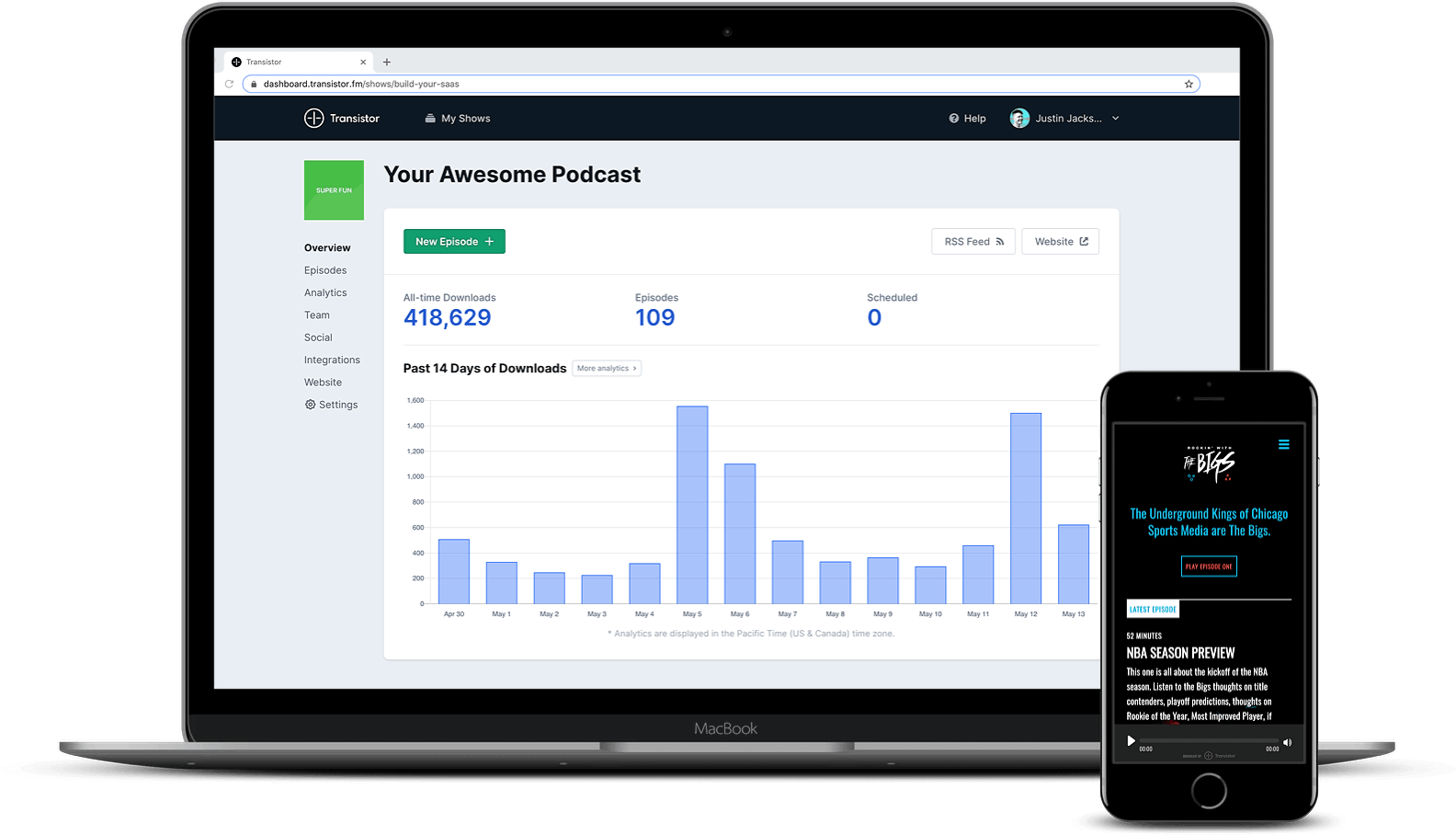 # Transistor
Transistor is another popular podcast publishing platform, where you can record your audio and upload it for the world to listen to your podcasts. While you focus on your content, they will be helping you distribute your podcast to Apple Podcasts, Spotify, Google Podcasts, and more!
Using this podcasting software you can start as many podcasts as you'd like, and they don't charge you more for creating additional podcasts. Easily embed the podcast player on your site to see stats, downloads, popular podcast apps, subscribers, trends and more.
Pricing: All plans start with a free 14 days trial, then their starter plan starts at $19 /mo with unlimited podcast and storage space.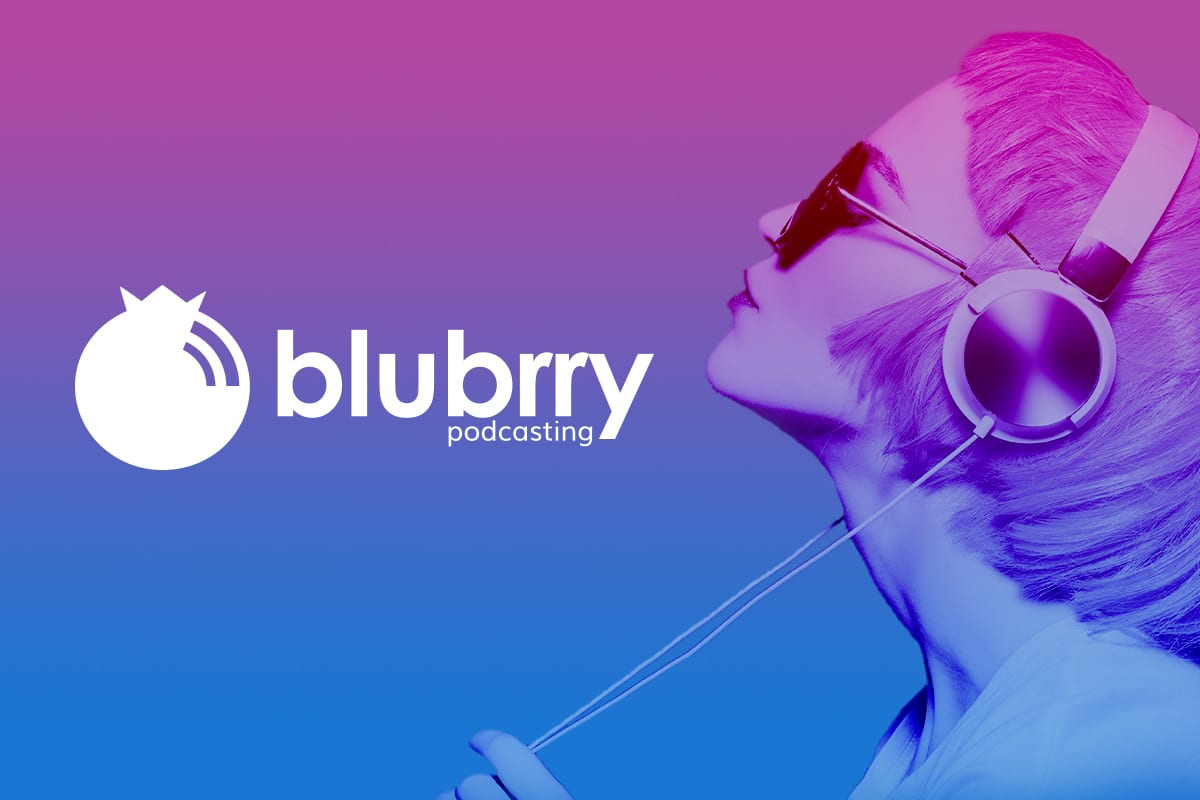 # Blubrry
Blubrry Podcasting is a full service podcast hosting company that offers you tools for podcast hosting, along with statistics, and a free WordPress website with every account. So, you can launch a podcast, or monetize a network with podcasting tools and publishing plugin for WordPress.
They are dedicated to providing the safest, and most effective podcasting services to personal as well as businesses, with industry leading, complete, full-control solution for company's podcast, network, or individual needs.
Pricing: All plans start with a one month free hosting, while upgrade starts at $12/month with 100 MB of monthly storage and unlimited bandwidth.
# Captivate
Captivate is one of the simple hosting for solutions for podcast creators, that is created by podcasters, for podcasters, with an intuitive dashboard to make running and promoting your podcast shows a complete breeze with in-built podcast marketing suite.
They offer fully flexible podcasting solution to let you set up your podcast in few clicks, or migrate your podcast in seconds with full access to simple distribution, customizable players, advanced analytics, marketing tools and tons of more resources.
Pricing: All plans include a no-obligation, 7-day free trial, while upgrades start at $17/month with unlimited number of podcasts and storage space.
Castos Podcast Hosting Platform to Publish Podcasts
# Castos
Castos offers podcast hosting & analytics for public podcasts to grow audience, and private podcasts for  exclusive content. It gives you all the tools you ever need to grow your audience, and connect with your community – no matter which plan you choose.
Publish as much podcasts as you want for a fixed monthly price, record longer episodes, test new styles, or launch a second show without ever thinking about storage limit. They don't impose bandwidth limits – that means your listeners can always access podcasts.
Pricing: All plans start with a 14 days free trail, then you can upgrade for starter plan at $19/month with unlimited number of podcasts and bandwidth limits.
# Audioboom
AudioBoom is another on-demand audio and podcasts distribution platform that offers services to the radio, media and podcast industries where you can host, distribute and monetize your podcasts. You can also add your podcast player to your website, blog or social media.
They will help you focus on your content and let your audience listen on the platform that's best for them, by distributing your podcasts to Apple Podcasts, Google Podcasts, Podcast Addict, Podchaser, RadioPublic, Spotify, and other popular music streaming sites.
Pricing: Individual plan starts at $9.99/month and offers unlimited episodes per month with up to 10,000 plays per month.
# SoundCloud Podcast
SoundCloud is one of the world's top music hosting platform where we can listen to music and stream podcasts online for free! It gives us tools to discover and play over millions of music tracks and join the online community of artists, bands, DJs, and audio creators.
SoundCloud users on a standard free account can upload up to 3 hours of audio every month, so it's great for getting your podcast published. If you want more, bandwidth you can pay $55/ year for 6 hours of audio a month and $135/ year for unlimited uploads.
Pricing: Standard plan is for for 3 hours hosting per month, while at $55/ year you will get 6 hours of audio a month with unlimited bandwidth.
# Anchor Podcast
Anchor Podcast by Spotify is one of the best free podcast hosting platform that offers built-in uploading, recording, and editing tools so you can easily create and publish your episodes, with advanced analytics and insights to help you understand and grow!
Anchor will seamlessly distribute your podcasts to all major podcast listening apps and host unlimited content completely free, forever, and also accept listener donations to make money as your audience grows.
# Megaphone
Megaphone gives the smartest tools to publishers to work from start to finish. As a podcaster you would be able to build drafts, schedule, and publish your content across all major podcast apps and smart speakers. Easily monetize, and measure your podcast business.
Using this platform you can easily monetize your content through dynamic insertion, get the right insights to scale reliably without outages or downtime and access world-class support through their customer experience team from anywhere in the platform.
Pricing: For details about plan and pricing i would recommend you to go to their official website to get a quote and learn everything about pricing!
# bCast
bCast offers podcast hosting services for high growth businesses to let them grow social engagement, traffic and
revenue with a podcast business. It offers great tools for businesses such as audio inserts, auto optin, transcription, and one click submission.
It also automatically generates you a beautifully designed, customise podcast website, and will list your each episode and will link out to the big podcast directories so people can easily subscribe to your shows.
Pricing: All plans come with a free trail, and when you are satisfied you can upgrade with a starter plan at $15/mo with 10000 download and unlimited space.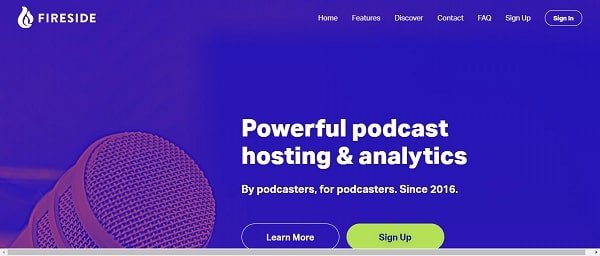 # Fireside
Fireside is another powerful podcast hosting & analytics platform created by podcasters, for podcasters with all the features and tools you will ever need to take your podcast to the next level and distribute your podcast pretty much everywhere!
It distributes your podcast to Apple Podcasts, Spotify, Stitcher, and more and comes with in-built features like a beautiful, responsive site with episode pages, custom images, custom pages, custom redirects, host and guest pages, and more.
Pricing: The starter plan starts at $9/mo with 1 podcast, 5 episodes per month, and 10,000 downloads per month.
Final Thought: Best Podcast Hosting Platforms and Podcast Sharing Sites
Those are the world's best podcast hosting platforms and podcast sharing sites offering tools and resources required by newbie to professional podcaster to successfully start podcasting with easy and powerful ways to create, promote and monetise podcasts.
If you have been thinking about starting to podcast, then you can choose the one you like the most from above list of the best podcasting tools on the internet.