So you want to know about what are the best search engines other than Google? Or want to try different search sites beside Google? No problem, here we have got the list of the best Google alternative search engines almost better than Google.
Searching for something online is one of the most important activities we have been doing everyday. As search engines like Google has become an essential part of our life. Without Google search, it would be impossible for us to think about anything.
No doubt, Google is the most popular place to search in the world, but what about others? Here in this post we have listed some of the other notable search portals in the market to search online for almost anything for free!
The Top Google Alternative Search Engines Other Than Google
Below we have listed the most popular alternatives search engines similar to Google search, available for everyone, covering information, images, videos, maps, facts, and more!
Bing is one of the most popular tool to search, after Google. It is owned and operated by the computer giant – Microsoft, and is more than just a simple search engine. Helping us get answers to our questions faster and easier.
Finding what we  love, from live sport updates, trending music, recipes, to so much more! Helping us turn information into action, making it faster and easier to go from searching to doing.
Microsoft's Bing is perhaps one of best Google alternatives out there on the Internet.
Yahoo! Search is another web search platform owned and operated by Yahoo! It is the third largest search engine in the world, just after Bing and Google search. It helps us find exactly what we are looking for.
Yahoo! Search makes it easy to find the best and most relevant information, answers, images, video, and more from all across the internet for free similar to Google and Bing.
# Yandex Search
Yandex is one of the largest Google alternative search engines based in Russia, specially popular in Ukraine, Belarus, Kazakhstan, Turkey, Asia-Pacific regions and millions of users from around the globe.
It also makes it possible to search for information, images, videos, maps, and other facts from all over the world in lively and securely manner with great quality. Along with world-class translation features.
# Baidu Search
Baidu is one of the China largest largest search engines, which I do love to add here! It is most popular among China, Japan, the USA, South Korea, Taiwan, and all over the South-East-Asian countries.
This powerful Chinese search website directly challenges Google. And, it is the only leading Chinese search website which is benefiting from Google services ban in China.
# DuckDuckGo
DuckDuckGo is another leading Internet search platform, which is developed not to store your personal information. It  doesn't tracks you in or out of private browsing mode. Because, it doesn't store your personal info and your search history.
Other search engines track our searches even when we are in private mode. You can use it, if you are concerned about privacy and need to take back your privacy! No tracking, just searching.
Qwant Privacy Search Alternative to Google
# Qwant
Qwant is another privacy based website to search for information online, including images, videos, and so much more without worrying about getting tracked. It is a French search engine, based in Paris. It is one of the best ways in the European Union to search that has its own indexing engine.
It claims that it does not ever employ our tracking or personalise search results in order to avoid trapping us in a cookies bubble. It respects our privacy and ensure neutrality and impartiality.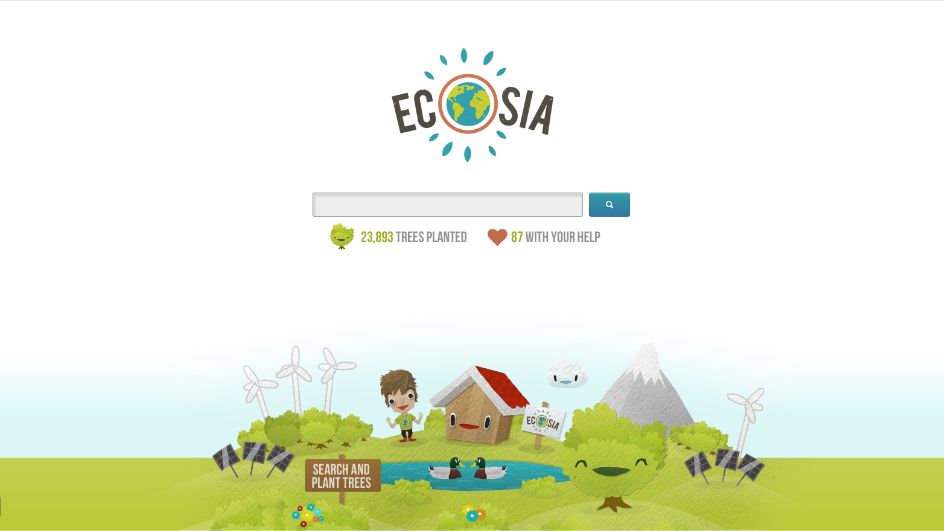 # Ecosia
Ecosia is one of the most innovative privacy friendly search engines, based in Germany, that donates 80% of its profits to nonprofit organisations to focus on reforestation. It claims to use the ad revenue from our searches to plant trees where they are needed the most in the world.
By searching with Ecosia, we're reforesting our earth. Our searches plant trees in some of the harshest places on Earth. In Burkina Faso, they already made the desert fertile again.
# DogPile
Dogpile is another popular meta-search website for information on the Internet. It gives results by fetching the best results from Google, Yahoo! and Yandex, including images, audio and shared videos contents.
Dogpile is made to make searching the web easy, because it has all the best search results pulled from multiple search engines and directories and then presents them combined to us.
# WebCrawler
The Web crawler, is basically a popular web-spider, also know as an Internet bot that systematically keep browsing the Internet, typically for the purpose of new web-pages indexing. It serves as a great alternate to Google.
It has been offering search results including web, images, audio, videos, news and more. It is popular in the US, Nigeria, Pakistan, Philippines, Ethiopia and other Asian regions.
# InfoSpace
InfoSpace is another Internet service company, which owns and operates search engines like DogPile and WebCrawler for comprehensive and relevant search results from around the web.
Their mission is to make it fast and easy for us to find what we need online. Mostly popular in Japan, the United States, Iran, India, Germany and various other regions around the globe.
# Info
Info, is another meta-search engine based in the United Kingdom. It pulls search results from leading search portals and directories, including Google, Yahoo!, Bing, Ask, About and other open-web directories.
Including comparison shopping and product reviews, a selection of news, pictures, video, classifieds, jobs, weather, maps and directions. It is mostly used in Nigeria, India, Ethiopia, Indonesia, Bangladesh and more!
Those were some of the world's best search engines, alternatives to Google, helping us find what we need online! These best Google alternatives are making it possible for us to search the information we have been looking for – on the Internet.
Google Search is no-doubt the world's most loved and powerful international search tool available for free, except ban in few parts of the world.
Now, let us know which is your favourite search engine other than Google? And, do you recommend it?
Also, let us know if something is missing form this list of the best Google search alternatives!